A warm welcome!


Although we cannot meet together in our Church building at the moment, our worship of God continues. Please see below this week's Collect (special prayer) and Bible Readings, a few thoughts from Father Tim, some prayers, and a piece of music selected by David Wood, our Choirmaster.

Page Navigation Links
The Collect (Special Prayer) for this Sunday
Almighty and everlasting God,
you have given us your servants grace,
by the confession of a true faith,
to acknowledge the glory of the eternal Trinity
and in the power of the divine majesty to worship the Unity:
keep us steadfast in this faith,
that we may evermore be defended from all adversities;
through Jesus Christ your Son our Lord,
who is alive and reigns with you,
in the unity of the Holy Spirit,
one God, now and for ever.
The Bible Readings (New Revised Standard Version)
Isaiah 40:12-17, 27-31
12 Who has measured the waters in the hollow of his hand and marked off the heavens with a span, enclosed the dust of the earth in a measure, and weighed the mountains in scales and the hills in a balance?
13 Who has directed the spirit of the LORD, or as his counsellor has instructed him?
14 Whom did he consult for his enlightenment, and who taught him the path of justice? Who taught him knowledge, and showed him the way of understanding?
15 Even the nations are like a drop from a bucket, and are accounted as dust on the scales; see, he takes up the isles like fine dust.
16 Lebanon would not provide fuel enough, nor are its animals enough for a burnt-offering.
17 All the nations are as nothing before him; they are accounted by him as less than nothing and emptiness.

27 Why do you say, O Jacob, and speak, O Israel, 'My way is hidden from the LORD, and my right is disregarded by my God'?
28 Have you not known? Have you not heard? The LORD is the everlasting God, the Creator of the ends of the earth. He does not faint or grow weary; his understanding is unsearchable.
29 He gives power to the faint, and strengthens the powerless.
30 Even youths will faint and be weary, and the young will fall exhausted;
31 but those who wait for the LORD shall renew their strength, they shall mount up with wings like eagles, they shall run and not be weary, they shall walk and not faint.
---
2 Corinthians 13:11-13
11 Brothers and sisters, put things in order, listen to my appeal, agree with one another, live in peace; and the God of love and peace will be with you.
12 Greet one another with a holy kiss. All the saints greet you.
13 The grace of the Lord Jesus Christ, the love of God, and the communion of the Holy Spirit be with all of you.
---
Matthew 28:16-20
16 The eleven disciples went to Galilee, to the mountain to which Jesus had directed them.
17 When they saw him, they worshipped him; but some doubted.
18 And Jesus came and said to them, 'All authority in heaven and on earth has been given to me.
19 Go therefore and make disciples of all nations, baptizing them in the name of the Father and of the Son and of the Holy Spirit,
20 and teaching them to obey everything that I have commanded you. And remember, I am with you always, to the end of the age.'
---
Some thoughts from Father Tim:
It is quite a tradition amongst Vicars that if we are lucky enough to have a Curate we ask them to preach on Trinity Sunday! Obviously I am not in that fortunate position now, but I think you can probably see why we might be tempted to try to avoid saying much on a subject that seems so complex, so difficult to explain and probably very easy to get wrong. And, anyway, perhaps we should never be tempted to use the word "explain" when talking of God, since by definition God must be beyond mere human understanding.
Our Collect for this Sunday, which is a modern-language version of that found in the Book of Common Prayer, maybe does give us a way in. It certainly does not seek to over-simplify matters, but uses rich terms like "divine majesty", "Unity", and of course, "eternal Trinity".
Now, you won't actually find the word "Trinity" in the Bible, but in the New Testament we often do see what we might call the "building blocks" of this understanding of God: our reading from 2 Corinthians has what we often refer to as "the Grace", mentioning 'the Lord Jesus Christ', 'God', and 'the Holy Spirit'. And, in Matthew, we have it more precisely stated when Jesus tells his disciples to baptise people "in the name of the Father and of the Son and of the Holy Spirit" – the Trinity. And this of course is what we do.
Both the Nicene Creed (which we say at Holy Communion) and the Apostles' Creed (which we say at Evensong) are almost entirely about the Trinity. The Nicene Creed begins "We believe in one God…", and this links us right back to the foundations of our faith, when the Jewish people were taught to recite the "Shema" – "Hear, O Israel: The LORD our God, the LORD is one." (Deuteronomy 6:4). So, though we as Christians say we believe in the "eternal" Trinity – i.e. that God has been like this for ever – we do not think this contradicts a faith in God being "one". Sometimes, though, the Church has been accused of acting as if we did believe in three Gods, not one, and to be honest I can see why!
I must admit to having struggled with the idea of the Trinity, and I remember once asking two of my much cleverer friends at theological college (yes, it was while I was at theological college, not Sunday School) why there could not be a "Binity" rather than a Trinity – i.e. the Father, who could be seen as an all-pervading spiritual presence, and his Son, Jesus, both human and divine. Their reply has made more sense to me than anything else on this subject: a "Binity" would indeed be two Gods, they said, but the Trinity is the Father and the Son joined together as one by their love for each other – which is the Holy Spirit.
We see this when people marry and we are told "the two become one". They do so by their loving commitment to each other. At the end of many of our Sunday Collects we say, as we do in today's, "in the unity of the Holy Spirit, one God, now and for ever." It is the Holy Spirit who makes the Unity.
So often we use the language of "Father, Son and Holy Spirit" in our Church worship and in our prayers, and we may be so familiar with it that we miss its significance. God is One, but God is not solitary.
We might say God is a Community where love, respect, kindness and joy are shared.
In my prayer room, which is the place where I start most of my days, I have a lovely copy of an Icon of the Holy Trinity (depicted as the three angelic beings Abraham offered hospitality to, as related in Genesis 18).
The original was by the Russian iconographer Andrei Rublev (dated 1411), and the copy I have once belonged to Fr. John, and Hilary kindly gave it to me in his memory. It is very special: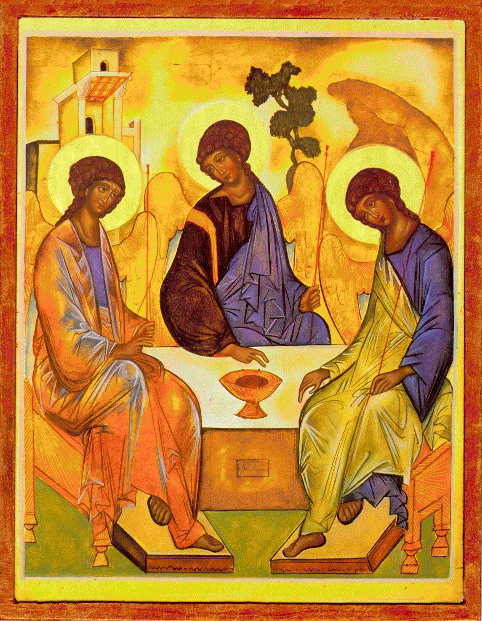 In this picture, all three figures are blessing the plate or chalice at the centre of the table; traditionally the figure in the middle is the Son, to the left is the Father, to whom the other two are looking, and to the right, the Holy Spirit. When I sit in front of this and really take time to look, I often feel drawn into the presence and love of that divine Community – invited to take the space that is left at the table, entering through the opened triangle (an ancient symbol of the Trinity).
But, even before I get to my place of prayer, in fact as soon as I get up, I make the sign of the cross and say "I begin this day in the Name of the Father and of the Son and of the Holy Spirit". In this simple physical way, I consciously 'wrap' myself in that Community of welcome, acceptance and love that we call the Holy Trinity. Maybe in these days of social distancing it is like a permitted "hug" – from God!
On looking at this image, though, it is good to remind ourselves that God's table is infinite in size, and so there is not just one place at it but an infinite number.All are in need of God's hospitality and all are welcome. God loves all his creation, and we are called, like God, to be at one with each other.
This is a very important message for these needy times: we are aware of the inequalities in our world, and the ways that this current virus epidemic has highlighted the fact that certain groups, identified by age, class or ethnicity, have undoubtedly suffered disproportionately more than others. And, I feel sure we are shocked to see the levels of unrest and violence in the United States over recent days, much attributed to the relentless racism in society. These events show plainly how so many across the world still experience being locked out, unwelcomed, not invited to the table. Black Lives Matter. All Lives Matter.
As always with religious faith, the other side of the coin is works: how we live. Our reading from 2nd Corinthians encourages us to greet each other warmly (I am guessing the kiss is optional), to agree with each other and to live in peace. In our Gospel, Jesus tells his disciples to teach others to obey everything he had commanded them, and we know that a lot of his teaching was intensely practical about how we live together.
And Isaiah reminds his troubled and needy hearers that even though God is majestic and glorious, "the Creator of the ends of the earth", he is also with them in their struggles: "He gives power to the faint, and strengthens the powerless…those who wait for the LORD shall renew their strength, they shall mount up with wings like eagles, they shall run and not be weary, they shall walk and not faint."
These verses are surely meant for all who suffer in these days from pandemic or prejudice!
And so, on this day of Trinity, and at the beginning of this long season of Sundays "after Trinity"
let uspray for a clearer vision of the mystery and greatness of God, Father, Son and Holy Spirit. Let us remind ourselves of God's welcome to all, and of the power and grace he gives to us all to play our part in building a world that reflect God's harmony and peace.
*******
As I have mentioned above, we are all shocked at the recent events in the United States, sparked by the killing of George Floyd on the streets of Minneapolis. In my view if we are serious about our faith such events also remind us of our own failures to love and respect others, and our own complicity at times in racist attitudes and behaviour. Below is a statement from the Diocese of Chelmsford, and following that a prayer that helps us to focus our thoughts and seek God's help to be different.
God of justice,
In your wisdom you create all people in your image, without exception.
Open our eyes
to see the dignity, beauty, and worth of every human being.
Open our minds
to do the hard work of learning what racism is, and is in us.
Open our hearts
to repent of attitudes, behaviours, and speech which demean others.
Open our ears
to hear the cries of those wounded by discrimination.
Fill us with courage that we might seek to heal wounds, build bridges, forgive and be forgiven, and establish peace and equality for all in our communities.
In Jesus' name we pray. Amen.
And, finally, you will be aware I feel sure that our Diocesan Bishop Stephen has now left us, and is preparing to become the next Archbishop of York. As we give thanks for his ministry amongst us we are now in a time of discernment as to who should be chosen as the next Bishop of Chelmsford. The Diocese has designated Trinity Sunday as a Day of Prayer, and is asking us all to join together in this special prayer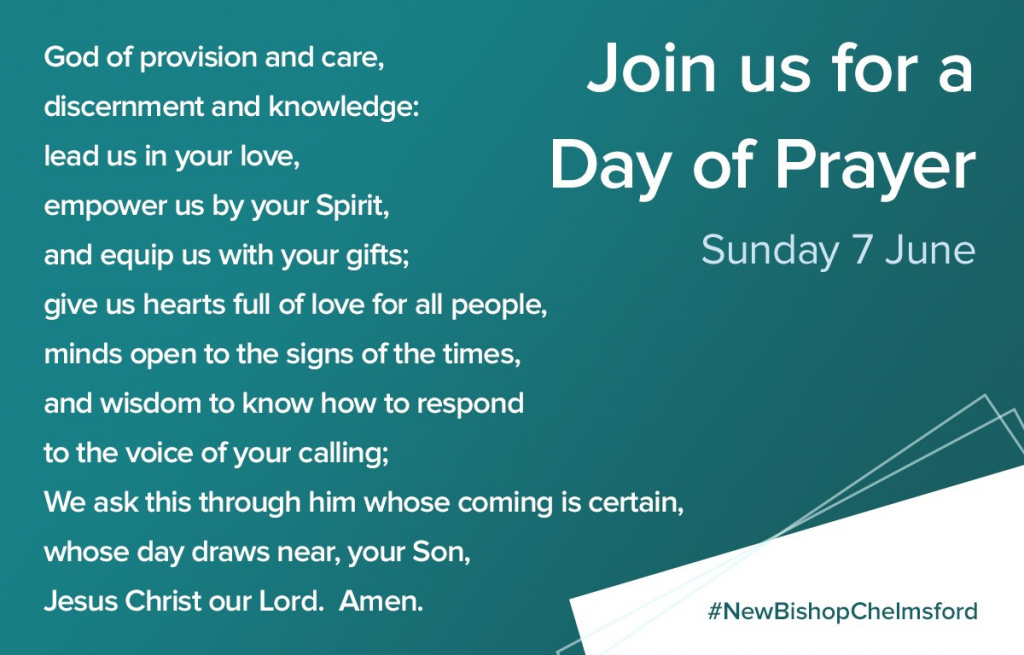 I will finish with a special Trinity Blessing:
God the Holy Trinity make you strong in faith and love,
defend you on every side, and guide you in truth and peace;
and the blessing of God almighty,
the Father, the Son, and the Holy Spirit,
be among you and remain with you always. Amen.
---
Sunday Worship Resources:
** Don't forget the BBC and its excellent Services:
Radio 4 at 8.10 am; and on BBC 1 TV, mid-mornings.
** And locally, Fr Colin's Webcasts via St Paul's Braintree Website
and Fr Rod's at St Mary's Bocking You Tube Channel.
Daily, including Sunday Resources also at:
** Sermon Podcast for this Sunday (and previous Sundays too):
https://www.chelmsford.anglican.org/sermons
** Chelmsford Cathedral:
https://chelmsfordcathedral.org.uk/church-at-home.html
** The Diocese of Chelmsford's dedicated webpage:
https://www.chelmsford.anglican.org/church-is-changing
** The Church of England Webpage:
https://www.churchofengland.org/prayer-and-worship/join-us-service-daily-prayer
---
Music
For Pentecost, our Choirmaster has chosen 'Listen Sweet Dove' by Grayston Ives. The words are from George Herbert's poem, 'Whitsunday'. It is sung on this recording by the choir of Jesus College, Cambridge.
---
Notices
AND – A NEW FREE-PHONE LINE from the Church of England!
0800 804 8044
For a message from the Archbishop of Canterbury, some Favourite Hymns, Reflections and Prayers
24 Hours a Day
Please ring in, and tell your friends and neighbours too – especially if they are not on-line!
A word of thanks from Judith Leach:

Judith's daughter, Sarah-Louise, Hannah and Gavin would like to thank everyone who has sent congratulations and best wishes on the birth of their son Oliver Simon Matthew Pearce on Wednesday
27th May. We are overwhelmed with the support and love received.
Braintree District Council Here to Help: guidance on services and advice available during Covid-19:
Please follow this link for helpful information, and maybe let others know who do not have internet access:
https://www.braintree.gov.uk/download/downloads/id/9289/braintree_district_council_community_pack.pdf