Greetings to all on this Tuesday of Holy Week:
When I last wrote on Facebook and on our Website, for Palm Sunday, I mused that on that day Jesus did what he hardly ever did – he actually drew attention to himself – almost shouting out "Look at Me!". This has prompted me to share a few pictures of Jesus as he makes this Holy Week journey to the Cross of Good Friday and onwards to his resurrection of Easter Day. They remind us that Jesus, though the Son of God, was also fully human, experiencing all our emotions and feelings.
Happiness and Joy: when Jesus enters Jerusalem on Palm Sunday, it is an event of great joy and celebration. I have always liked this image of Jesus laughing, and in fact if you go online, you will see hundreds more. They are mostly modern, since the older 'classical' artists never gave us the benefit of his smiling face, or even in this case throwing back his head in laughter, though surely he did!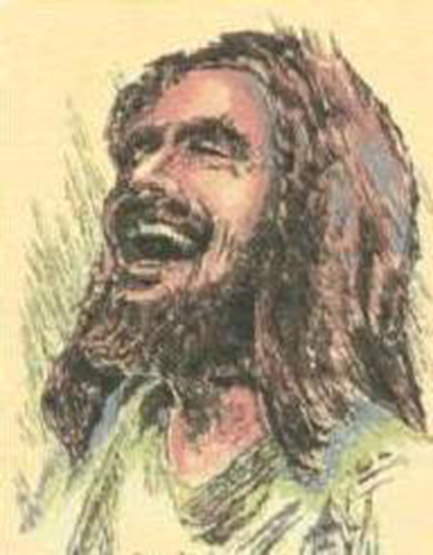 It does us good to remember that God has got nothing against us being happy, having fun, enjoying an occasion, though often we have told ourselves if we enjoy something too much, God must disapprove.
Sadness and tears: St Luke tells us that when the joyful Palm Sunday procession nears Jerusalem, Jesus weeps over the city because so many in it would be blind to who he really was, and what he came to do.
Weeping /crying (I have never really understood the difference, though if men do it at all I think they are supposed to do the former) are again part of human life and experience. Half the human race is told "big boys don't cry", and certainly not grown men; none of us should feel we have to 'work up' tears, but neither should they be 'wiped out'. When they come, they come for a reason, and it's good for us and others if we let them out.
Jesus is so deeply moved about the suffering that he can see coming on the people of the city: in his compassion he weeps not for himself, but for them. Sometimes, though, tears for ourselves are OK too, and help relieve our feelings and even lead us to feel more hopeful.
Anger: the Gospels tell us that Jesus enters Jerusalem and makes straight for the Temple. He sees all the trade going on in it – the buying and selling of animals for sacrifice, and hates the extortionate prices and sharp practice, and the disturbance all this causes to people trying to pray: "It is written, 'My house shall be called a house of prayer'; but you have made it a den of robbers" he says. He overturns their tables and drives the traders out.
We may be uncomfortable with this image, and this may not be at all how Jesus looked, but I do find it a striking one, especially if we are wedded to the idea of "gentle Jesus, meek and mild". His was of course what we would call "righteous anger"; St Paul reminds us "Be angry but do not sin; do not let the sun go down on your anger" (Ephesians 4:26), and in a verse I have from way back (probably because I needed it!) "the anger of man does not work the righteousness of God." – James 1:20. But, it is still important to recognise that this emotion is sometimes necessary, and sometimes constructive: it can get things done!
***************************************************************
Jesus asks us, "Look at me!": I hope the faces I have shared help to remind us that he really travels with us in our happiness and laughter, our sadness and anger, and that in these "lockdown" days we, and many in far more desperate circumstances, may know his presence and power to help and save. And often this will happen through our own thoughtful, kind and good deeds to others, no matter how we are feeling.
Please don't forget our own Diocese's resources for Holy Week: https://www.chelmsford.anglican.org/holyweekathome
and check out our website too:

Please do get in touch if you or someone you know are in need: 01376 349267
May God continue to bless and guide us all in this special Holy Week.
Fr. Tim