For over 100 years St Peter's had a traditional robed choir of men and boys and was able to continue in this tradition long after many choirs ceased to exist.  St Peters now admits ladies and children (of both sexes) to the choir, and after a few years of experimentation with this it is now the settled format.  We continue to uphold the traditional music of the church including all the Advent, Christmas and Easter services as well a regular Choral Evensong.  If you are interested in joining please contact the choirmaster or organist, details on the contacts page.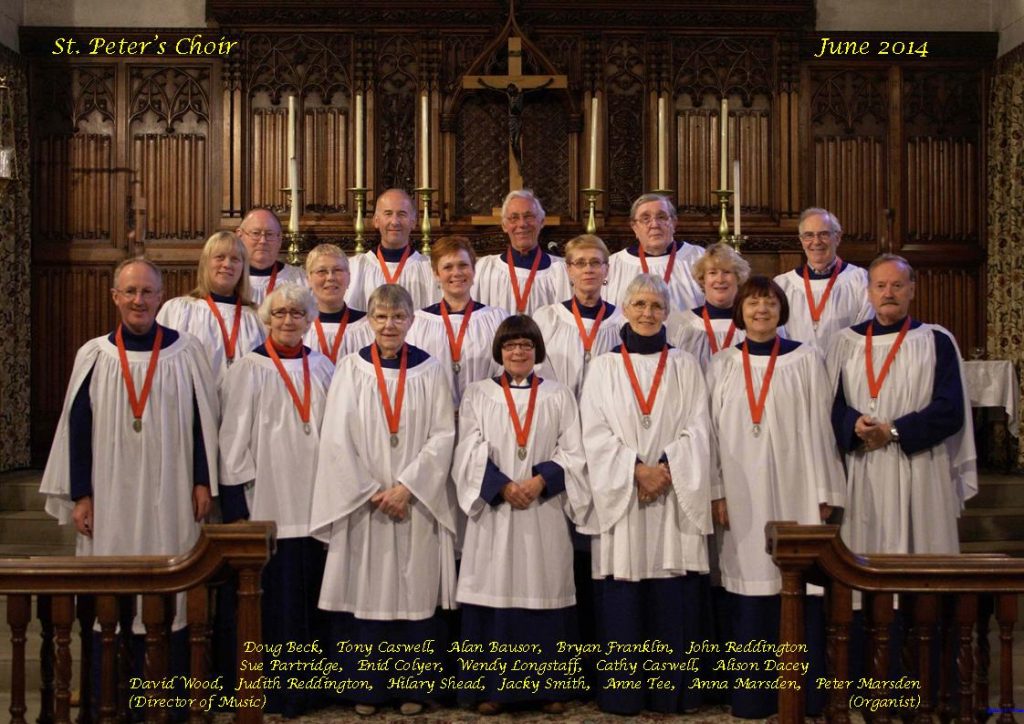 The Parish Church of St. Peter, Bocking: Service Music for January 2019
Sunday 6th Family Communion 10.00am (Celebration Hymnal for Everyone)
Processional Hymn: 55 As with gladness (Tune: Dix, in A flat A&MR 79, 1st & last unison)
Gloria: (Salazar, arr. Inwood CHFE 406 Vol 1)
Gradual Hymn: 883 Jesus, name above all names (Sung twice) Supp.
Offertory Hymn: 788 We three Kings
Sanctus and Benedictus: Gathering Mass (Paul Inwood)  CHFE 433 Vol 1
Choir Anthem: In the bleak midwinter (Harold Darke)
Communion Hymns:  167 Father we love you
                                      72 Be still for the presence of the Lord
Recessional Hymn:  692 The first nowell (Tune:The First Nowell, last unison)
Sunday 13th Sung Communion 10.00am  (New English Hymnal)
Processional Hymn: 56 Songs of thankfulness and praise (Tune: St. Edmund, 1st &  last unison)
Kyries: Mass of St. Cedd (Peter Nardone)
Gloria: Mass of St. Cedd (Peter Nardone)
Gradual Hymn:  466 Thou, whose almighty word (Tune: Moscow, last unison)
Gospel Acclamations: Communion Service (Peter Aston)
Offertory Hymn: 52 O worship the Lord in the beauty of holiness  (Tune, Was Lebet, last unison)
Sursum corda: Plainchant
Sanctus and Benedictus: Communion Service (Peter Aston)
Acclamation:  Communion Service (Peter Aston)
Agnus Dei: Mass of St. Cedd  (Peter Nardone)
Choir Anthem:  From the rising of the sun (F. Ouseley)
Recessional Hymn: 368 Guide me, O thou great redeemer (Tune: Cwm Rhondda, all harmony!)
Sunday 20th Sung Communion 10.00am  (Celebration Hymnal for Everyone)
Processional Hymn: 241 Hail to the Lord's anointed (Tune: Cruger, 1st & last unison)
Kyries: Mass of St. Cedd (Peter Nardone)
Gloria: Mass of St. Cedd (Peter Nardone)
Gradual Hymn:  161 Father, Lord of all creation (Tune: Abbots Leigh, last unison)
Gospel Acclamations: Communion Service (Peter Aston)
Offertory Hymn: 326 Jesus is Lord  (Tune: Jesus is Lord, all unison)
Sursum corda: Plainchant
Sanctus and Benedictus: Communion Service (Peter Aston)
Acclamation:  Communion Service (Peter Aston)
Agnus Dei: Mass of St. Cedd  (Peter Nardone)
Choir Anthems: O taste and see (Ralph Vaughan Williams)
New Year Carol (Benjamin Britten) Carols for Choirs 2
Recessional Hymn: 745 To God be the glory (Tune: To God be the glory, veses unison, choruses harmony)
Sunday 27th Sung Communion 10.00am   (New English Hymnal)
Processional Hymn:  234 Christ, whose glory fills the skies (Tune: Ratisbon, 1st & last unison)
Kyries: Mass of St. Cedd (Peter Nardone)
Gloria: Mass of St. Cedd (Peter Nardone)
Gradual Hymn:  481 Jesus, Lord, we look to thee (Tune: Vienna, NEH 462, 1st & last unison)
Gospel Acclamations: Communion Service (Peter Aston)
Offertory Hymn: 415 O for a thousand tongues to sing (Tune: Richmond NEH 346, last unison)
Sursum corda: Plainchant
Sanctus and Benedictus: Communion Service (Peter Aston)
Acclamation:  Communion Service (Peter Aston)
Agnus Dei: Mass of St. Cedd  (Peter Nardone)
Choir Anthem: Teach me, O Lord, the way of thy statutes (Thomas Attwood)
Recessional Hymn: 486 We have a gospel to proclaim (Tune: Fulda, last unison)
Sunday 27th Congregational Evensong: 6.00pm (New English Hymnal)
Introit: Teach me thy way, O Lord (W. Fox)
Responses: Ferial
Psalm: 33 (Chant: J. Randall in E flat)
Hymn: 49 Brightest and best (Tune: Epiphany, last unison)
Magnificat and Nunc Dimittis: (Turle and Baker)
Anthem:  All people sing thy praises (J.S. Bach)
Hymn: 235 Forth in thy name, O Lord I go (Tune: Song 34, last unison)
Choir practice is on Thursday 7:30pm to 9:00pm unless otherwise stated