Dear Friends, this day is above all one of joy and hope, light and life – Easter Greetings to you all:
Alleluia!, Christ is Risen; he is risen indeed, alleluia!
We have tried to journey with Jesus from that very public arrival in Jerusalem on Palm Sunday when he seemed to be shouting aloud, "Look at me!", and we thought of the various faces he had as he moved through that day. We then thought of that much more intimate gathering for the Last Supper of Maundy Thursday, when in humility and such loving attention he washed Peter's feet; and then we thought of his face marred almost beyond recognition as he cried in pain and gasped for breath on Good Friday.
Well, the resurrection itself happened in secret while no one was looking – in that dark, cold and damp tomb. Our minds cannot really get round how it may have looked. But afterwards, the Gospels tell us many people met with the risen Jesus, though they did not always know it. Mary Magdalene famously mistaking him for a gardener, and those two disconsolate disciples on the road to Emmaus not recognising him at all until at table with him. This being the case, it is perhaps more of a challenge to think what the resurrected body of the Son of God would look like. However, artists through the centuries have tried to show us their vision of this.
Just as many images of the crucified Jesus may have been 'sanitised', obscuring the hideous reality of such human suffering, we will well understand that images of the risen Jesus will struggle to show him as he might have been. Some pictures lack depth, and some are plain Hollywood-hero banal.
Almost unique in classical art, though, is a fresco from the Church of Sansepolcro, Tuscany, by Piero della Francesca (ca. 1460). The famous humanist, writer and philosopher Aldous Huxley (who died in 1963) famously called this the 'best picture in the world'
In it we see the just-risen Jesus stepping up out of his tomb, the soldiers set to guard it all asleep below – even they missed the moment! On the one hand it is true that the body of Christ is idealised and seemingly little affected by the wounds of his scourging or crucifixion, though the wound in his side is still seeping blood. But, this painting is probably almost unique in the detail of his face: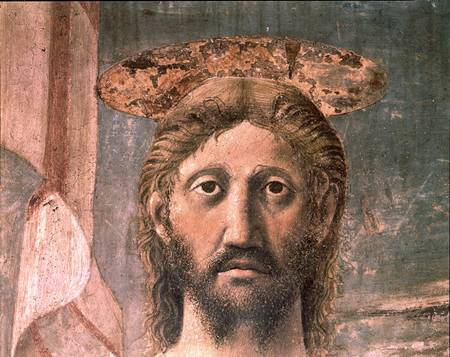 It is here that the emotional depth and truth shines through, in all its richness.
* Some see him (as Huxley did) with his "cold eyes" and "formidably strong" body, as in every sense the conquering hero. * Others see a face that reflects deep trauma, having seen and witnessed things no one should ever have to see. * Still others see a face that might be termed one of stunned triumph.
The beauty of this image is that all three interpretations feel valid, and probably others do too.
Stare deep into that face and I think you will see this to be true.
*****************************************
Now, we shall all miss our lovely Church building and the Easter ceremonies we have grown to value so much, so I want to remind you of the Easter Candle which is such an important focus of our Service:
Right at the beginning of the Service, we light our Candle and carry it from the font right through the Church, singing three times, "Christ our Light: thanks be to God!"… and then all of our candles are lit from this one light as we sing our opening hymn. But, before we light the Easter Candle, we push hard into its side the 5 nails – reminding us of the wounds of Christ. And as we do so we say these words:
"By his holy and glorious wounds, may Christ our Lord guard us and keep us. Amen."
My good friend Fr. Carl Turner, as parish priest of Plaistow, E. London, often used to tell us all: 'the wounds of Christ are always fresh".
It seems to me that this image of the Resurrection face of Christ that Piero della Francesca has given us says this too, and speaks of the power of Jesus to help and save us.
**********************
As I have said, we shall miss being in our Church building even more so on this Day of all Days, but we are discovering that we can worship and pray where we are, and share fellowship by all sorts of electronic means – even the humble telephone. I am heartened that so many of you are finding this to be so.
There are also opportunities to join in acts of worship together so please don't forget our Diocese's resources for Holy Week: https://www.chelmsford.anglican.org/holyweekathome
and check out our own website too: www.stpeters-bocking.net
And, we are all invited too to join with Fr. Colin and our friends at St Paul's Braintree in their Service
at 10.30 am on Easter Day: you will find it at
https://www.facebook.com/StPaulsBraintree/ and at https://www.stpaulsbraintree.org.uk/onlinechurch.htm
One of the traditions we have at St Peter's is to ring our bells on Easter Day:
some have suggested 10.15 am, which may work better if you are joining Colin at 10.30 am,
and some have suggested 11 am. We can do either or both! But, whatever, let's do it!
And so, I end with the Easter Blessing for each one of you:
The God of peace,
who brought again from the dead our Lord Jesus,
that great shepherd of the sheep,
through the blood of the eternal covenant,
make you perfect in every good work to do his will,
working in you that which is well-pleasing in his sight;
and the blessing of God almighty,
the Father, the Son, and the Holy Spirit,
be among you and remain with you always. Amen.
Alleluia!, Christ is Risen; he is risen indeed, alleluia!
Father Tim 01376 349267 fr.tim@speters-bocking.net